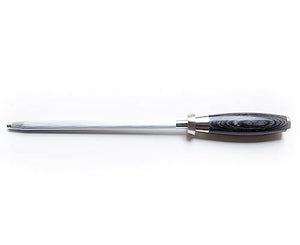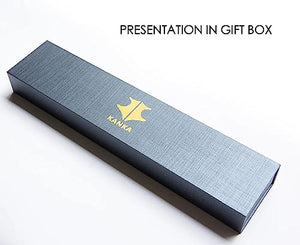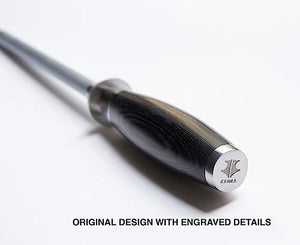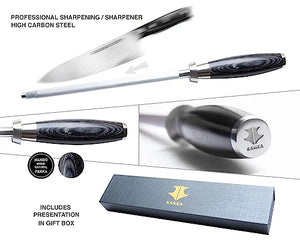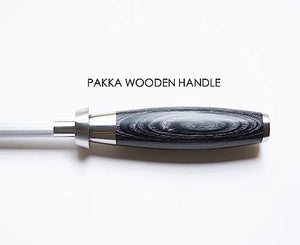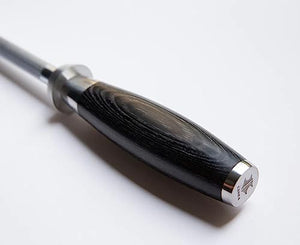 PRODUCT DETAILS
The KANKA Sharpening Rod / Honing Steel tool is an essential accessory for keeping your knives razor-sharp.
Measuring 9 inches in length, this honing steel is designed to realign and maintain the edge of your blades, ensuring optimal cutting performance.
Crafted from premium high carbon stainless steel, the KANKA Honing Steel offers superior durability and resistance to corrosion. It's sturdy construction allows for effective honing, helping to extend the lifespan of your knives and maintain their sharpness over time.
The honing steel features a Pakka Wood handle, known for its elegance and comfortable grip. This ergonomic handle provides a secure hold, making it easy to control the honing process for precise and efficient sharpening.
The KANKA Honing Steel is compatible with a variety of knives and blades, offering versatility in your sharpening routine. Whether you need to touch up your kitchen knives or restore the edge of your favorite blade, this honing steel provides a straightforward and user-friendly solution.
With the KANKA Honing Steel Knife Sharpening tool, you can effortlessly maintain the sharpness of your knives, ensuring smooth and precise cuts in the kitchen. Experience the convenience and effectiveness of this honer, designed to keep your blades in optimal condition.
F.A.Q.