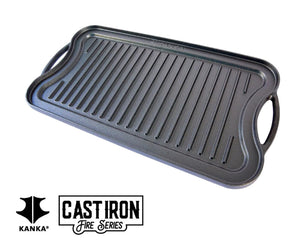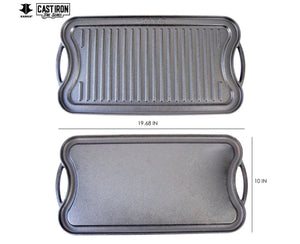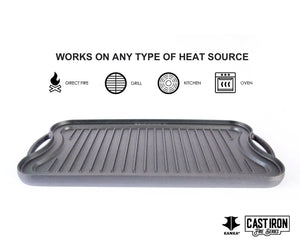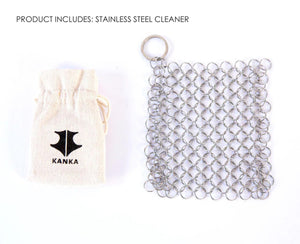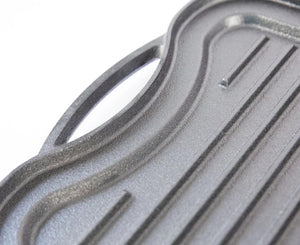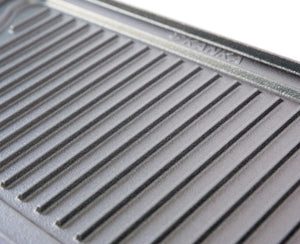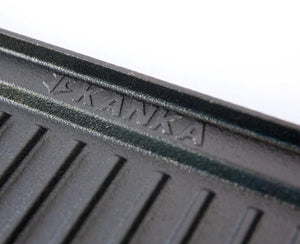 PRODUCT DETAILS
The KANKA Cast Iron Reversible Griddle is a versatile and durable cooking accessory that enhances your culinary endeavors.
Measuring 19.7 X 10.23 inches this large rectangular griddle offers ample cooking surface for a variety of dishes.
Pre-seasoned for immediate use, the KANKA Cast Iron Griddle eliminates the need for additional seasoning before cooking.
Its reversible design allows for two cooking options, providing flexibility in your cooking techniques. One side features a smooth surface, ideal for cooking foods like eggs, pancakes, and grilled cheese. The other side boasts ridges, perfect for achieving beautiful sear marks on meats, fish vegetables, and more.
Made from high-quality cast iron, this griddle ensures even heat distribution, retaining heat for superior cooking performance. Its sturdy construction guarantees long-lasting durability, making it a reliable cooking companion for years to come. Whether you're preparing a hearty breakfast or searing a delicious steak, the KANKA Cast Iron Griddle is a versatile and essential tool that elevates your cooking experience.
WORKS WITH ANY HEAT SOURCE - With its easy to grip handles, this stove top griddle is easy to move around across your grill, stove, or any other heat source: gas, electric, induction or direct fire.
CLEANER INCLUDED - Stainless steel chain cast iron cleaner included ($10 value).

F.A.Q.